Sheboygan WI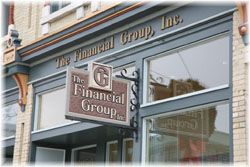 Today's investment climate offers many opportunities. At The Financial Group, our mission is to help clients take advantage of those opportunities by providing them with three key tools:
A clear understanding of their financial situation. 
Recommendations suitable to their current situation.
Periodic review of their portfolio.
Investors should understand basic terms and types of trades, like bid and ask prices, market order and limit order.

Common types of financing that might be available to help small businesses expand or cover operating expenses.

The differences between ETFs and mutual funds, with an emphasis on the potential cost and risk factors of ETFs.

Tax season is an opportunity to look at the tax implications of investment strategies and plan for the year ahead.
Knowing your likely life expectancy is an important factor in making long-term financial plans.

Determine whether you should consider refinancing your mortgage.

Calculate the rate of return you would have to receive from a taxable investment to realize an equivalent tax-exempt yield.

How much do you need to save each year to meet your long-term financial goals?