Sheboygan WI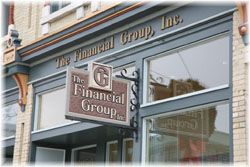 Today's investment climate offers many opportunities. At The Financial Group, our mission is to help clients take advantage of those opportunities by providing them with three key tools:
A clear understanding of their financial situation. 
Recommendations suitable to their current situation.
Periodic review of their portfolio.
Financing a college education with minimal debt requires planning, saving, financial aid knowledge, research, and sound decision-making.

How do you see your retirement? This article provides some guidelines to help you develop a well-defined retirement vision.

Spreading out payments for online purchases may be tempting, but shoppers should think twice before committing to installment purchases.

This article explains some of the key information provided on a personalized Social Security Statement.