Sheboygan WI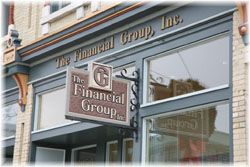 Today's investment climate offers many opportunities. At The Financial Group, our mission is to help clients take advantage of those opportunities by providing them with three key tools:
A clear understanding of their financial situation. 
Recommendations suitable to their current situation.
Periodic review of their portfolio.
Stay-at-home spouses can fall behind in saving for retirement. This article explains how a spousal IRA can help keep retirement savings on track.

The S&P 500 index recently saw the fastest recovery in its history following the COVID-19 bear market, but will the surge continue?

This article explores how life insurance might help small businesses attract and retain talent or fund buy-sell agreements.

This article discusses risks involved in developing treatments and vaccines for COVID-19, and why discoveries might not benefit investors.
Will you be able to afford nursing home care?

A balance sheet summarizes your assets and liabilities and reveals your net worth.

How much will it cost to pay off a loan over its lifetime?

How much Disability Income Insurance do you need?