Sheboygan WI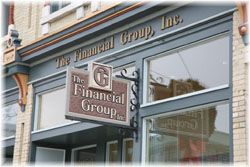 Today's investment climate offers many opportunities. At The Financial Group, our mission is to help clients take advantage of those opportunities by providing them with three key tools:
A clear understanding of their financial situation. 
Recommendations suitable to their current situation.
Periodic review of their portfolio.
The beginning of the year is a great time to organize records and discard old documents to make room for new ones.

American society remains litigious — an umbrella insurance policy can provide additional coverage for personal liability.

A discussion on the initial public offering (IPO) process, recent trends, and investment risks.

Here is an overview of IRA distribution rules and options for surviving spouses and nonspouse beneficiaries.