Sheboygan WI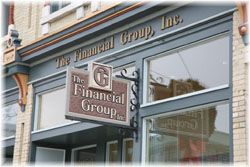 Today's investment climate offers many opportunities. At The Financial Group, our mission is to help clients take advantage of those opportunities by providing them with three key tools:
A clear understanding of their financial situation. 
Recommendations suitable to their current situation.
Periodic review of their portfolio.
A business plan can be an important step toward success. Here are some key components to consider.

Rolling funds from an employer's plan to an IRA enables you to maintain control regardless of your employment situation.

An overview of Section 529 savings plans, including their traditional use for college saving and the new rules for K-12 tuition.

ETFs have some attractive features that set them apart from mutual funds, but there are also cost and risk factors to consider.
Estimate the annual required distribution from your traditional IRA or former employer's retirement plan after you turn age 70½.

A balance sheet summarizes your assets and liabilities and reveals your net worth.

Estimate of the maximum amount of financing you can expect to get when you begin house hunting.

Use this calculator to determine whether you qualify for the different types of IRAs.