Sheboygan WI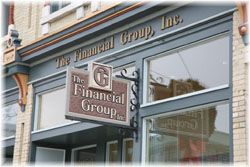 Today's investment climate offers many opportunities. At The Financial Group, our mission is to help clients take advantage of those opportunities by providing them with three key tools:
A clear understanding of their financial situation. 
Recommendations suitable to their current situation.
Periodic review of their portfolio.
This article discusses risks involved in developing treatments and vaccines for COVID-19, and why discoveries might not benefit investors.

Explore the benefits of individual life insurance versus work-based coverage, and compare term and permanent policies.

This article explores how life insurance might help small businesses attract and retain talent or fund buy-sell agreements.

Discover how the step-up in basis provision may help reduce capital gains taxes and preserve the value of assets left to heirs.
Compare the potential future value of tax-deferred investments to that of taxable investments.

How much will it cost to pay off a loan over its lifetime?

Estimate the annual required distribution from your traditional IRA or former employer's retirement plan after you turn age 72.

Estimate the future cost of an item based on today's prices and the rate of inflation you expect.