Sheboygan WI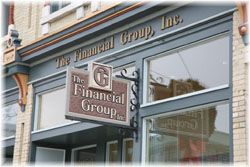 Today's investment climate offers many opportunities. At The Financial Group, our mission is to help clients take advantage of those opportunities by providing them with three key tools:
A clear understanding of their financial situation. 
Recommendations suitable to their current situation.
Periodic review of their portfolio.
Many U.S. states offer a way to avoid probate when leaving the family home to your heirs. Learn more about transfer-on-death deeds.

Learn about four financing options that might help small businesses expand, pursue new opportunities, or cover operating expenses.

Discover how indexed annuities work, including the risks and potential benefits of purchasing an indexed annuity contract.

Find out how individual impact bonds may allow investors to preserve principal and generate income while supporting activities that are important to them.