Sheboygan WI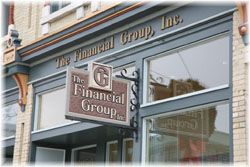 Today's investment climate offers many opportunities. At The Financial Group, our mission is to help clients take advantage of those opportunities by providing them with three key tools:
A clear understanding of their financial situation. 
Recommendations suitable to their current situation.
Periodic review of their portfolio.
Some strategies to help fixed-income portfolios weather a period of interest rate uncertainty.

Cash balance plans can be a powerful tool for employee recruitment and retention, plus they have generous contribution limits that increase with age.

A Medigap policy or a Medicare Advantage Plan could help provide more stability for health-care spending during retirement.

Some tips for parents and college students to consider, whether opening a new checking account or using an old one.
How much do you need to save each year to meet your long-term financial goals?

Is your personal inflation rate higher or lower than the CPI?

How much Disability Income Insurance do you need?

How much will it cost to pay off a loan over its lifetime?